In June, we celebrate Pride -- a month-long celebration of the LGBTQ+ community. At Endiem, we accept all people as they are, and believe in giving back, so we look at it as our duty to help out those in our Houston community that are in need.
We partnered with Texas Dreamin', the Salesforce community group in Texas, on a fundraiser during their annual event, which raised $1500 for Montrose Grace Place. Montrose Grace Place is a Houston-based organization whose mission is to provide a safe, welcoming environment for vulnerable homeless youth of all sexualities and genders, providing nourishment, healthy relationships, and hope for the future. Twice a week, Montrose Grace Place opens its doors to homeless youth of all sexual orientations and gender identities and provides food, mentorship, training, and most of all, a place to belong.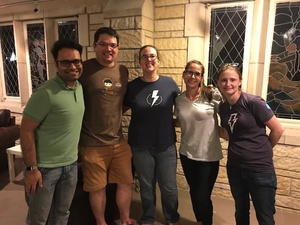 We decided to match the $1500 raised by Texas Dreaming, for a total of $3000, as well as provided some items for auction and a supply of candy bars -- a favorite of the young people who visit Montrose Grace Place. "That $3000 provides two months' worth of family-style dinners to Houston's homeless LGBT young people," according to Scott Luikart with Texas Dreamin'. During this meal they connect with volunteers who serve as a caring adults who support and encourage these youth, no matter how they identify.
To our CEO, Geraldine Gray, giving just comes naturally. "This is a community that needs support, so it's natural for us to lend support to them. It's our responsibility, as people who are fortunate enough to have resources to share, to share with these teens who need mentorship, a sense of belonging, and kindness. They'll pay it forward in years to come."
You can find out more about Montrose Grace Place here. To see Geraldine Gray talk a little about Salesforce's Trailblazer Communities (which just celebrated its 1000th community!), check her out on Twitter: